Between 10:00am and 8:00pm, at 30 different locations in the Tenjin and Hakata districts, the so-called "Dontaku-tai" dance groups will perform displays of their skills. In the afternoon, there is also a parade at the Dontaku Plaza on Meiji Dori. At night, extensively illuminated trucks called "flower cars" drive around in their own special parade, sporting anime characters and other pop-cultural icons, creating a very unique type of atmosphere. On the 4th, the grand finale, during which anyone can join in, takes place at Dontaku Plaza.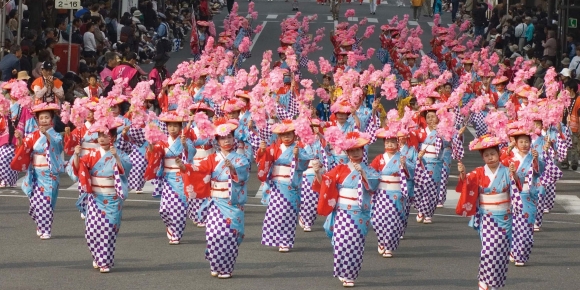 The western area of JR Hakata Station, Fukuoka prefecture
Access from Tokyo
1hr45min from Haneda Airport (Tokyo) to Fukuoka Airport (Fukuoka). 6 min by subway from Fukuoka Airport to Hakata Sta.
May 3 - 4 every year
Website: Hakata Dontaku official website

(in English)