The Expat's Guide to Japan is now sharing information on how to prevent, deal with the viruses and so on with the help of Smart119.
The 7th topic in the series is "How to Prevent Heatstroke During Corona Disaster".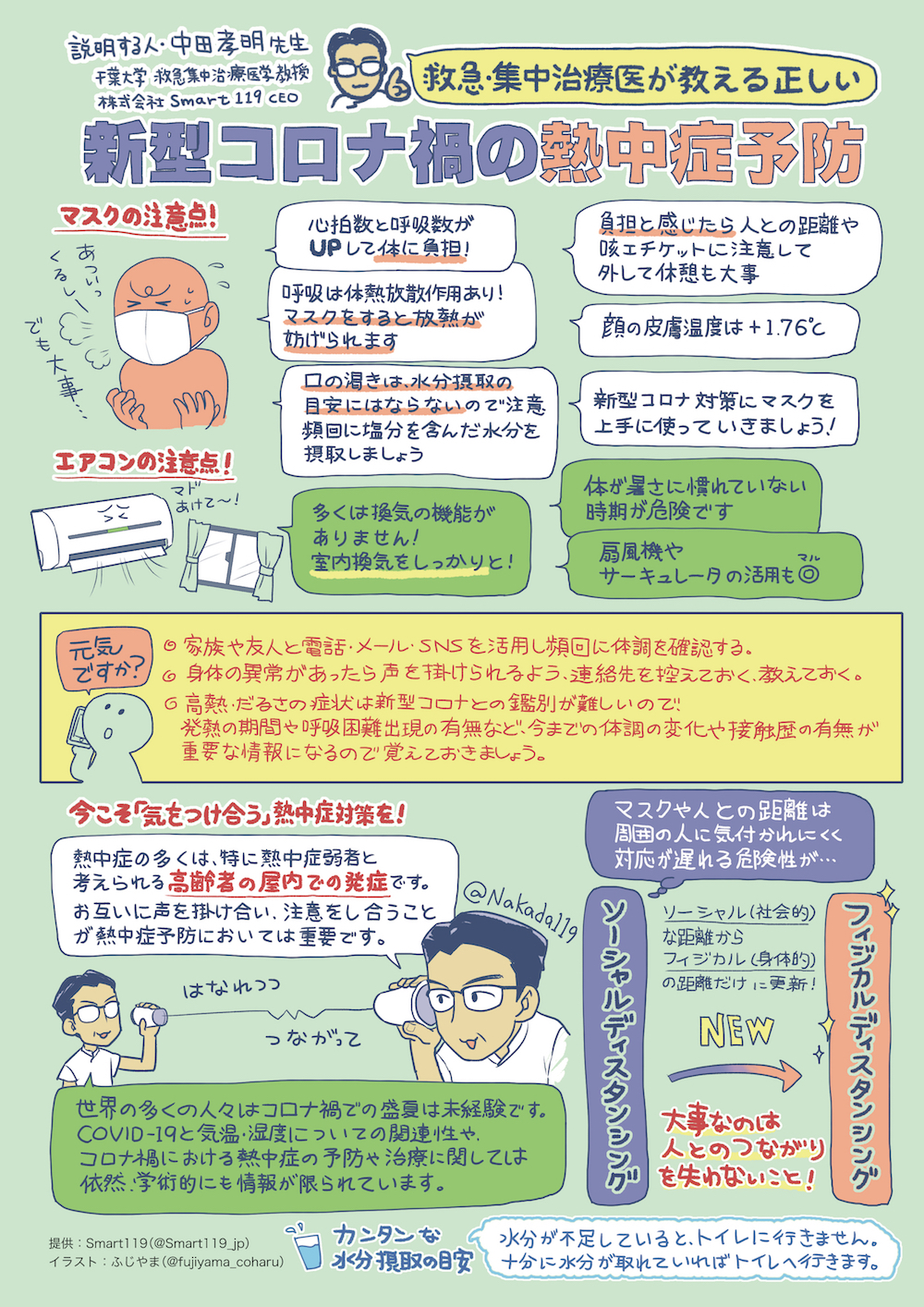 Wearing a mask has almost become a common manner, but in the heat and humidity of the Japanese summer, it is not easy to keep it on.
Let's take a look at how to prevent heat stroke in the Corona era.
What to pay attention when wearing mask: It's hot, it's hard to breath, but it's important!
・Mask increases heart rate and breathing rate, and may give high impact on your body.
・Breathing helps to release heat from your body, but mask may prevent from doing so.

・Dryness of the mouth does not indicate when to hydrate, so be sure to take fluid with added salt as often as possible.
・If you feel uncomfortable with your mask, it is important to take it off to rest by practicing appropriate social distance and coughing etiquette.
・Temperature of your face skin is plus 1.76℃.
・Use masks wisely to prevent COVID-19.
What to pay attention when using air conditioner: Make sure to open up the windows to ventilate air!
・Many air conditioners do not have air ventilation system, so make sure to get some fresh air once in a while.
・You need to be extra cautious during the season when your body is not used to the heat.
・It is also good idea to use fans and circulators.
Call and text your friends and families, or check each other's social medias frequently to see if they are staying healthy.

Give and receive each other's contacts to get in touch in case somebody falls ill.
Symptoms such as fever and fatigue are very similar to that of COVID-19, so be sure to record how long you've been having fever for, if you have breathing difficulty, any changes in health conditions, and whether you had contact with corona patients.
These would be very useful information.
It is now especially crucial to prevent heatstroke by "caring about each other's".
The heatstroke often hits elderly people inside the house who are considered to be most vulnerable to the heatstroke. It is important to prevent heatstroke by getting in touch with each other and be precautious by keeping appropriate distance.
Keeping social distance with other people and wearing masks may hide the sign of danger from people around you, and cause to delay the treatment. So make "social distancing" to "physical distancing", so you won't lose the connection to your loved ones!
The information on connection between COVID-19 and temperature and humidity, and how to prevent and treat heatstroke during corona disaster are still under study.
Simple way to know if you are hydrated enough…
You feel no need to go to the bathroom when you are not hydrated enough, but you do when you are.
Uncertain things & things under study
・The effects of antiviral drugs such as Avigan
・Mortality rate and antibody (defense)
・The difference in type and the season of epidemic
・Accuracy problems in inspection
・Fact and the reason that children are less likely to become seriously ill
Points of measures
・It is highly possible that the virus has already infected your surroundings when you show those symptoms.
・Everyone including those who have no symptoms need to wear masks to prevent its spread.
・Social distance is also effective until an effective vaccine/therapeutic drug is available.
Smart119
*The article was written by Professor Takaaki Nakata (Professor of Emergency Intensive Care Medicine, Chiba University) who teaches at Chiba University, and Toshifumi Taniguchi (Lecturer of Internal Medicine, Chiba University Hospital).
The attached manga-style illustration is also supervised by the two above.
Click here to Download the illustration
*What is Smart119?
Smart119 Co., Ltd. is a venture company established by an active emergency doctor from Chiba University School of Medicine.
More about Smart119